Welcome to the Management of Novice Alchemist Wiki!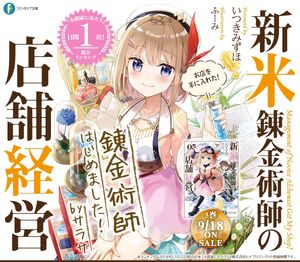 Publishing company Kadokawa announced a television anime adaptation of Mizuho Itsuki's Shinmai Renkinjutsushi no Tenpo Keiei (Management of Novice Alchemist) light novel on Saturday.
Synopsis
Shoot for the stars! I'm going to be the country's number one alchemist!
When young girl Sarasa graduated from the Royal Alchemist Academy, her teacher gifted her a house for her to set up shop. Aiming to become a masterclass alchemist, she gathers materials herself, experiments and operates a business. In her very own atelier, Sarasa indulges in a slow and relaxed alchemist life! (Source: Kadokawa, edited)
Information
Itsuki began penning the slice of life fantasy novel on the Shousetsuka ni Narou website in November 2018. Fujimi Shobo began publishing the series under its Fantasia Bunko imprint with illustrations by Fuumi in September 2019 and released the fifth volume on Saturday. Itsuki also publishes the title on Kadokawa's Kakuyomu website.

Comic Valkyrie began serializing a manga adaptation by kirero on December 11 last year. The first volume is scheduled for an October 8 release.